Has scented capsules to refresh your mood!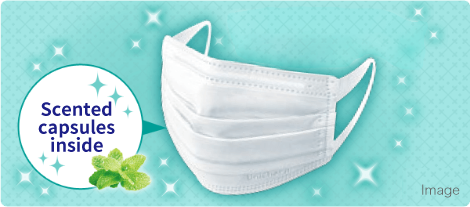 The scent capsules on the inside open when they are tapped!

Silk touch filter contains real silk which makes it comfortable to wear!

Soft stretch ear loops are easy on your ears and comfortable for a long time!

Structure fits in all directions to prevent gaps!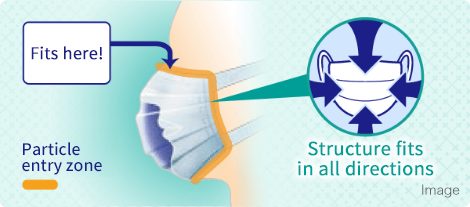 Fits properly across the nose and cheeks.

Virus droplets cut filter® blocks thoroughly!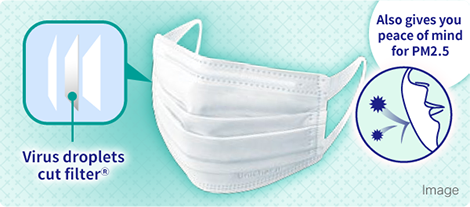 Prevents virus droplets and allergens from getting in.
Also gives you peace of mind for PM2.5.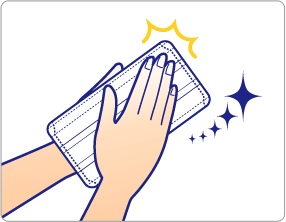 Lightly tap the mask 2-3 times to open the scented microcapsules.
*By how strongly you tap the mask, you can adjust the strength of the scent.
If the scent becomes weak,
tap it again or lightly touch it with your finger to release the scent again.
Unicharm Cho-Kaiteki® Mask, Smooth Mint
Video explains how to put on mask to minimalize ear pain from wearing a mask.
Series
Shape
Size
Cho-Kaiteki® Mask

Small
Medium
Slightly large
Cho-Rittai® Mask

Small
Medium
Large
Cho-Kaiteki® Mask
for Kids

For preschoolers

For lower elementary school students

For upper elementary school students
Cho-Rittai® Mask
for Kids

White
Pink
Cho-Kaiteki® Mask
Smart Color

Medium
Transparent Mask
Unicharm
Face Visible Mask

Medium
Basics of selecting a mask: How to measure face size
Here is a method for easily measuring the size of your face, so you can select the mask size that fits you. The only thing you need is a ruler, so please try it.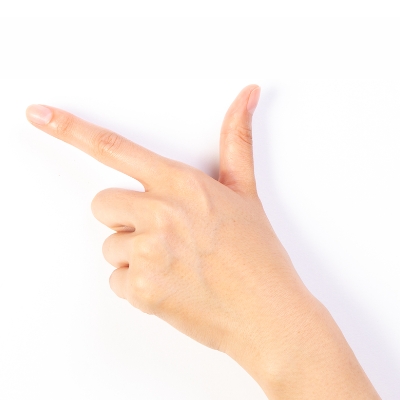 1. Make an "L" shape with your thumb and index finger on one hand.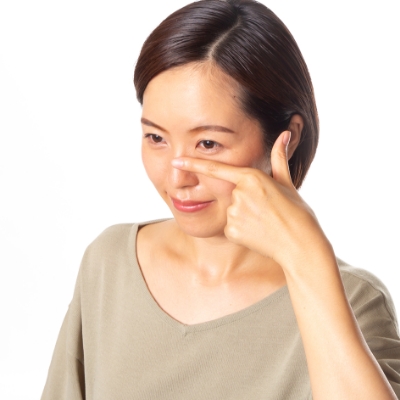 2. With your fingers in that "L" shape, touch the tip of your thumb to the part of the ear where the top starts to arch up away from your face. Then touch the tip of your index finger 1 cm below the top of the bridge of your nose.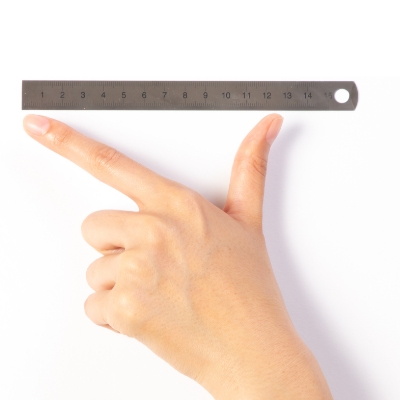 3. Use a ruler, etc. to measure the distance between the tip of your thumb and the tip of your index finger, and that is the guideline for the size.
*Size guidelines for Unicharm Face Visible masks will be shown separately on the product page.
| | |
| --- | --- |
| Measurement results | Recommended size |
| 9-11 cm | For kids |
| 10.5-12.5 cm | Small |
| 12-14.5 cm | Medium |
| 14 cm or larger | Slightly large / Large |
After you measure your face, use the table below to select the mask size. For example, if your measurement result was 11 cm, it would be the mask for kids or the small size, and if the result was 14 cm, it would be the medium or large size.